A typical Convenience Store uses a single aisle of shelving with an End Cap as pictured above. the picture depicts 2 island gondolas with shelving on both sides and an end cap either on one end or both ends of the shelving aisle. For a larger store several aisles of gondolas are used in the same configuration.
We have an end cap available in either a end frame configuration or with the use of a wall section. The End Frame generally mounts on to the end of a gondola aisle and the wall section slides up against the eng of an aisle and does not need any support or mounts. The main difference is the end frame will not support as much weight as the wall section. The reason the wall section will support more weight is because of the general design of gondola shelving. The gondola shelving is designed with the up right directly connected to the base shoes.
For more information on Gondola Shelving and End Caps we hope you will find the following links helpful.
If you are in need of Gondola Shelving for your Convenience Store Click Here to begin the quote process with one of our trained and competent sales representatives.
---
Some of the most popular displays for a convenience store are:
Candy Racks for gondolas and counter.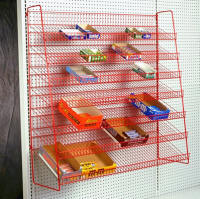 We have candy racks that mount securely onto an existing section or gondola unit and free standing candy racks.
---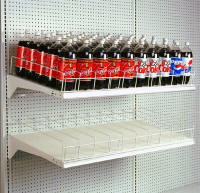 Complete shelving kits available that include the heavy duty shelf in a 20", 22" or a 24" deep shelf, a plastic sliding shim, and the wire rack required to align the 20 liter bottle.
---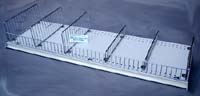 Dividers are always very useful for dividing a upper shelf into sections to separate items into groups. dividers and fencing are also used to prevent merchandise from falling off a shelf.
---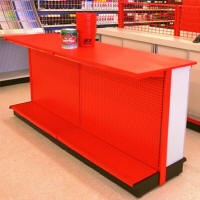 Over the years our customers have been very happy with our counter systems constructed of gondola shelving. They can be completely customized to any size, can even go around a corner, provide shelving on the back side for storage, and merchandising on the front customer side for impulse items. Can meet the needs of most any store decoration application with a choice of many colors and laminate patterns. Most of all they are very competitively priced compared to having a counter system constructed by a local contractor.